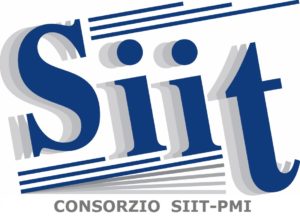 Considering the large number of SMEs associated to SIIT, to ensure a rational and effective overall operational management, allowing the possible participation of each SME in the District's initiatives, the SIIT PMI Consortium was established within SIIT, with its own representatives in the governance of the District.
Consortium established in Genoa on 5 July 2006
Associated Companies: 80 SMEs
Share in SIIT S.c.p.A .: 3%
How to join:
Download here the useful documents for your request to join the consortium.
Download the Statute.
ABIRK ITALIA SRL
ABO DATA SRL
AITEK SPA
ARTYS SRL
ASSOCIAZIONE GISIG
BK SRL
CAMELOT Biomedical Systems SRL
CANOVA TECH SRL
CELIN S.R.L.
CIRCLE GARAGE SRL
CLEIS SECURITY SRL
CLEIS TECH SRL
CLICK & FIND SRL
DARTS ENGINEERING SRL
DOTVOCAL SRL
ELETTRONICA MELARA SRL
ELSEL SRL
EMC SRL
EXIS ENGINEERING SOLUTIONS SRL
F.O.S. SRL
FINSA Spa
FOS GREENTECH SRL A SOCIO UNICO
FREMSLIFE SRL
GENOA FIELDBUS COMPETENCE CENTRE
GENOVA ROBOT SRL
GRAAL TECH SRL
GRUPPO SIGLA SRL
GTER SRL Innovazione in geomatica, gnss e gisHARUSPEX SRL
HUB TELEMATICA SCARL
I.LOG SRL
IESOLUTIONS SRL
IFM INFOMASTER SPA
IMAVIS SRL
INFOCOM SRL
INTERCONSULTING SRL
IROI SRL
LEN SRL
LEONARDO SISTEMI INTEGRATI Srl
LIGURIA CONSULTING SOLUTIONS Srl
M3S SRL
MANTERO SISTEMI SRL
MANYDESIGNS SRL
MAPS SpA
MAST SRL
NEXTAGE SRL
OMEGA SRL
ON AIR SRL
PEGASO SYSTEMS Srl
PHASE MOTION CONTROL SRL
PNPLab Srl
PROMETHEUS SRL
R.G.M. SPA
RULEX INNOVATION LABS SRL
SELMAR SRL
SI.EL.CO. SPA
SIS SRL INFORMATICA E SISTEMI
SITEM SRL
SITEP ITALIA SPA
SPIN-WAVE SRL
STAM Srl
STAMTECH SRL
SWHARD Srl
TAU LOGIC SRL
TECHCOM SRL
TECHFIN SRL
TECHNOAWARE SRL
TELEROBOT SRL
VEGA RESEARCH LABORATORIES SRL
WOLF DYNAMICS SRL